What is Holly?
Everything you always wanted to know about Holly but were too fraid to ask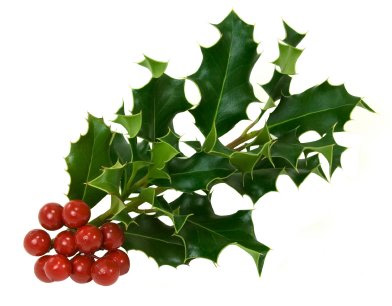 Think you know it all about Holly?
Holly is a genus of approximately 600 species of flowering plants in the family Aquifoliaceae, and the only living genus in that family.
Holly berries are mildly toxic and will cause vomiting and/or diarrhea when ingested by people. However they are extremely important food for numerous species of birds, and also are eaten by other wild animals. In the fall and early winter the berries are hard and apparently unpalatable. After being frozen or frosted several times, the berries soften, and become milder in taste. During winter storms, birds often take refuge in hollies, which provide shelter, protection from predators (by the spiny leaves), and food. The flowers are sometimes eaten by the larva of the Double-striped Pug moth (Gymnoscelis rufifasciata). Other Lepidoptera whose larvae feed on holly include Bucculatrix ilecella (which feeds exclusively on hollies) and The Engrailed (Ectropis crepuscularia). Holly is commonly referenced at Christmas time. The berries are red.
Having evolved numerous species that are endemic to islands and small mountain ranges, and being highly useful plants, many hollies are now becoming rare. Tropical species are especially often threatened by habitat destruction and overexploitation, and at least two have become extinct, with numerous others barely surviving.
The origin of the word "holly" is Old English holegn, which is related to Old High German hulis. The French word for holly, houx, derives from the Old High German word, as do Low German/Low Franconian terms like Hülse or hulst. These Germanic words appear to be related to words for holly in Celtic languages, such as Welsh celyn and Irish cuilleann.
The botanical name ilex was the original Latin name for the Holm Oak (Quercus ilex), which has similar foliage to common holly, and is occasionally confused with it.
Holly is also used as a name for girls... We think it's a beautiful name.