Growing Mistletoe
How to grow your own Mistletoe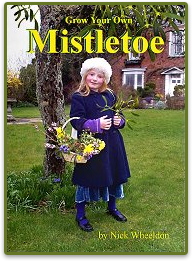 You can add a copy of Grow Your Own Mistletoe to your order
A guide for green (or should that be sticky) fingers :)
Jonathan Briggs runs the Mistletoe Matters Consultancy and is a national mistletoe expert, with over 25 years' experience of working with parasitic plants. Following is his key tips on how best to propagate mistletoe.
Growing the parasitic mistletoe isn't as difficult or mysterious as many old gardening books make out. The seeds simply need to be 'glued' with their natural viscin, onto a suitable young, thin-barked branch in the open air. There's no need to 'plant' the seeds into cuts or flaps of bark, place them in cracks of fissured old bark or cover them with cloth.
The seeds germinate best when harvested in February, but you can use berries bought at Christmas. Keep them cool in the shed, and squeeze the seeds out in February (soaking the stored berries for a few hours before seed removal may help).
Choose a host tree carefully. Mistletoe will grow on a very wide range of tree species but has a distinct preference for cultivated apple. About 40 per cent of all British mistletoe is on apple, so always choose this if you have one. Other rose family shrubs are also suitable (though not pear or plum) so do try hawthorns, whitebeams and exotics like cotoneaster too. Poplars, limes and willows are also suitable. Pea family shrubs and trees, especially False Acacia, are also worth a try.
Try to plant as many seeds as possible, at least 20 at once, as some will die or be eaten. And, as mistletoe plants are either male or female, remember that you'll need at least two plants if you want berries.
Simply squeeze the seed from each berry and stick it, with its own glue, to branches 1.5m or so up the tree and on the side or underside of a branch at least 20mm diameter. Mark each branch loosely with string, as it's very easy to forget where you put them!
Germination is fairly rapid and a tiny green shoot will appear and bend to contact the host bark. (Do remember the mistletoe is a parasite, and will distort the growth of that branch from now on.)
At this early stage the tiny plants are particularly susceptible to grazing wildlife. They're also prone to dehydration until they've made a host connection. But if all goes well the tiny green shoot will survive and remain, visibly unchanged, until the following February. Only then will the new mistletoe start to develop. It may be four or five years before your first berries appear.