How to care for cut Holly
Cut holly is a welcome addition to any winter holiday decoration. The shiny green leaves and bright red berries add a traditional touch to your holiday festivities.
How to handle and care for your cut holly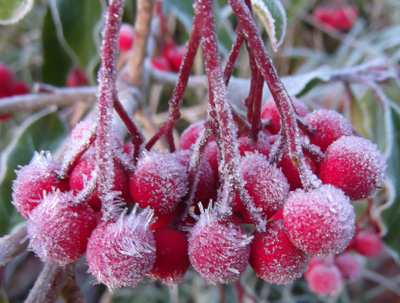 Cut holly is of course a perishable product. The quality deteriorates progressively after the holly is removed from the tree. The chief problems are moisture loss and defoliation. Proper harvesting, storage, and shipping methods can increase the effective life of cut holly.
Cut only the best quality holly for decorative use. The leaves should be well colored; most of the berries should be ripe; and both the berries and the foliage should be free of blemishes, scratches, and other types of damage.
Cut holly when temperatures are above freezing and when wind and strong sunlight will not cause excessive drying. If cut during warm, dry weather, holly should be moved into cool, moist storage soon after removal from the tree.
After bringing holly inside, wash it to remove spray residues, dust, and other contaminants. Holly can be washed in dip tubs or by a directed spray from a hose.
Moisten holly on arrival. Perhaps submerge it in water for a few minutes. Shake gently. Pick off damaged or blackened berries and damaged leaves.
For display, holly will last longer if treated as cut flowers: cut off tips of stems under water and keep in cool fresh water. If not to be displayed immediately, store in a plastic bag at cool temperatures above freezing point.
Keep away from frost and excessive heat. Avoid placing near fruit or where it may be affected by fumes from gas and oil stoves.
Please Note: Holly Berries are NOT edible.